The other day I was invited to keynote an all-day academy session for Jadu, a leading supplier of platform software for local government. There was a great lineup of speakers, as usual – but something caught my eye that day that I thought deserves sharing more broadly.
It's this: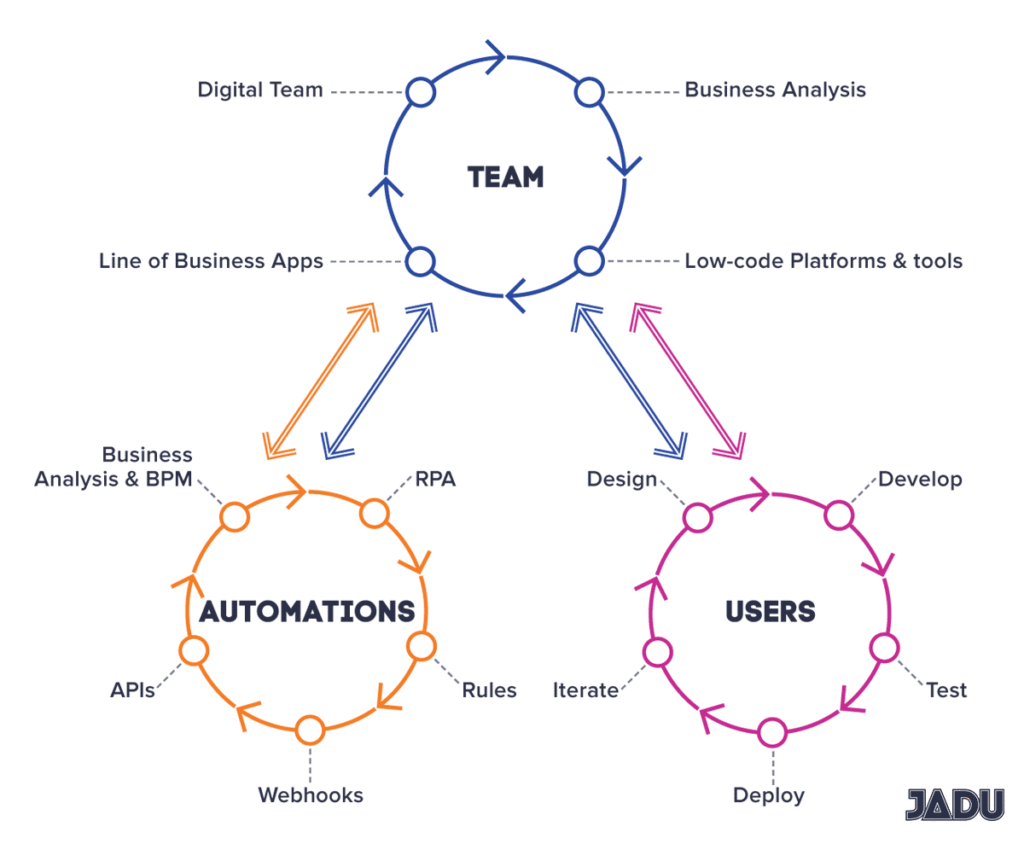 So why do I like it?
It seems to me that there's a 'hidden code' in this structure for a digital team: and this code is a solid commitment to consumption of cloud-based utilities and services, modularity, and re-use. Jadu actually call it the 'flywheel', and they comment:
"In a world where customer expectations of online service delivery are outpacing capability for most organisations to deliver. Where every major company on the planet seems to be on a mission to build a superstar tech team. And that means developers, cloud specialists and cybersecurity professional are being snapped up at a rate that means it's almost impossible for hiring managers to keep up. Organisations must establish standards and a culture where people have the skills, capabilities and tools to automate, integrate and design to deliver fit for purpose digital services".
In other words, unless you're super-cashed up and prepared to compete for increasingly scarce talent, a perhaps more sustainable plan is to zero in on consumption, modularity, and re-use – and build the skills to become really excellent configurers. Rather than just drawing the more traditional agile development loop around the Users (bottom right wheel), Jadu's model explicitly includes an 'Automations' wheel, cementing their commitment to these technologies and the hyper-scale heavy lifting these can perform – as well as thinking properly about integration with existing processes and technologies (the 'Team' wheel). The 'flywheel' term, and two-way arrows linking the wheels, describe the synergies that can be expected from blending these commitments into a smooth operating dynamic.
The reason I believe this is important is that, in my view, many in the 'digital profession' blew off course some years ago, essentially believing that the 'users' wheel in Jadu's model was substantially what 'digital transformation' was all about. However, it doesn't take a genius to appreciate that, for example, Blockbuster Video could have designed a million lovely, user-centric services around its traditional model, without giving its customers what they actually wanted, which was a reimagining of home entertainment services. No amount of activity in the 'Team wheel' on its own, however well-intentioned, will achieve a reimagining of what those services are there to do in the first place.
And that's why I admire Jadu's model, because it seems to couple this user commitment with an understanding that more is required, if you are to achieve much more than polishing the proverbial.
You can even tease out a strategic commitment to 'doing more' from the 'code' in this diagram: to me, it says:
"We design and deliver excellent services around our users, that fully leverage emerging technology and automate heavy lifting, whilst integrating this with our existing team and empowering them to configure wherever possible".
Very nice.