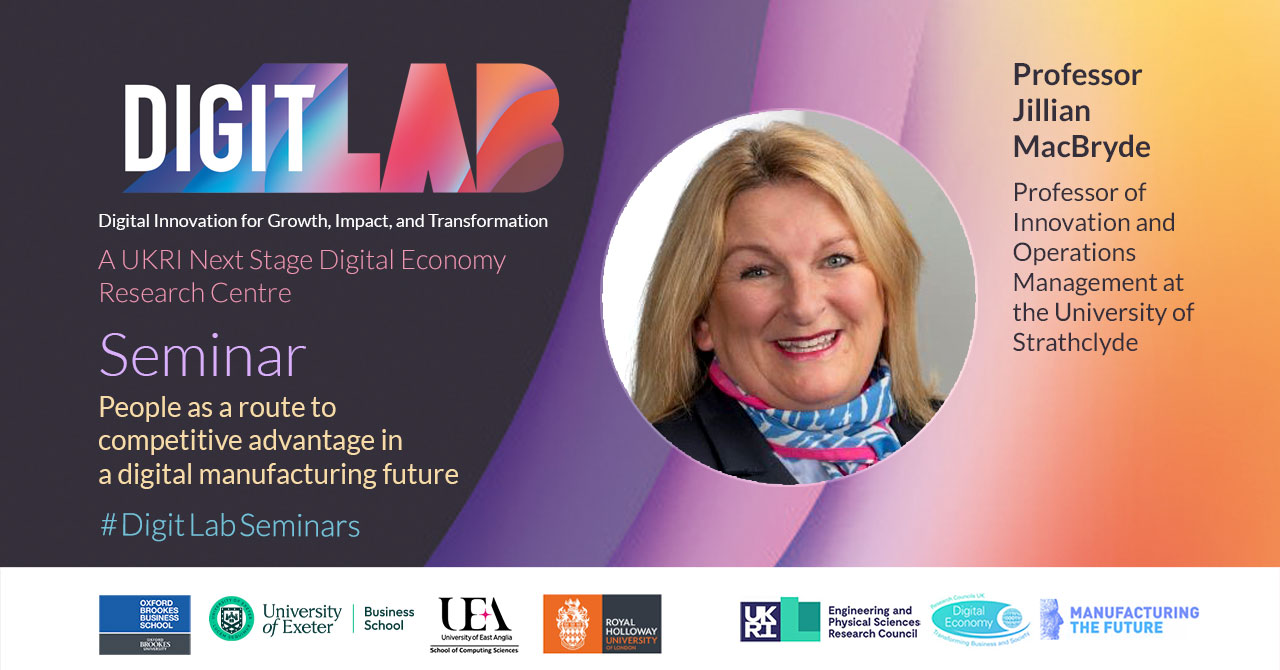 Wednesday 25 January 2023, 12:30 GMT
♦️ This is an online event.
As we embark on the next stage of our industrial evolution, digitalisation will shape the future of our economy, manufacturing ecosystem, and workplace. Digital technologies can enable us to create the future we want and move beyond consumption-driven economic growth. Made Smarter sets out to create a future digital manufacturing ecosystem that meets our net-zero ambitions, whilst being resilient and productive. Whilst technology is important, there are many social and economic factors that will be hugely influential in achieving these aims. The InterAct Network is part of the Made Smarter Innovation family and seeks to address the human challenges and opportunities.
In this webinar InterAct Co-Director, Professor Jill MacBryde, will outline opportunities to engage with InterAct – whether you are an academic, policy maker, or a practitioner from manufacturing or a developer of digital technologies. She will particularly focus on how we can ensure that we are thinking about people as we build a strong manufacturing future in a digital environment. The Webinar will touch on important questions such as :
What will a digital manufacturing workplace look like?
How can the manufacturing sector prepare people to work alongside new technologies, robots, and co-bots?
What are the essential skills for future manufacturing workplaces and how can we enable these through training and education?
How can advanced technologies help generate and embed new ways of working by opening up career opportunities for otherwise hard-to-reach groups such as women, minorities, older workers and disabled people?
Professor Jillian MacBryde
Jill MacBryde is Professor of Innovation and Operations Management at Strathclyde University where she is also Director of the Hunter Centre for Entrepreneurship. Jill is Co-Director of the ESRC Made Smarter Network Plus, "InterAct" network, which aims to bring insights from the social sciences to support the innovation and diffusion of digital technologies that will result in a stronger, more resilient, manufacturing base. Jill leads the core workstream on the Future of Manufacturing Work which addresses the impact of automation on jobs, employee satisfaction and productivity. It also addresses the issue of perceptions of manufacturing in a changing digital landscape.