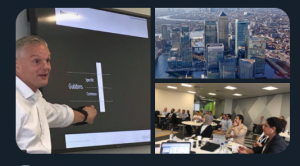 This week Professor Mark Thompson, a director of the Initiative in the Digital Economy (INDEX), will lead the Amazon Web Services (AWS) Executive Education Course in Government Transformation. The course equips senior international public servants and elected officials with the confidence and expertise they need to transform public services to meet the needs of their citizens.
The course is led by academic and public service leaders who have delivered national-scale technology and business reforms resulting in significant innovation, savings, and better public services. The course includes a pioneering Agile 'mini sprint' where delegates design a digital public service from the ground up in an intensive, hands-on learning experience.
The collaboration is a key component of an ongoing strategic research relationship between AWS and INDEX.
Download the course prospectus.