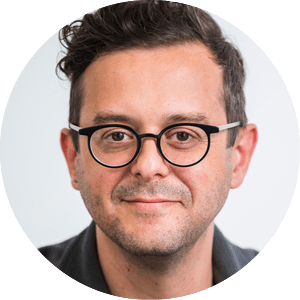 Senior Lecturer
David Plans initially studied artificial intelligence and media, using evolutionary algorithms to investigate the nature of human improvisation. He helped build the first European merger for Open Source startups and worked within the UK's National Health Service to deploy the first mobile application to let users self-report in chronic illness. He has given papers and talks at the European Conference on Artificial Life, IRCAM, the Darwin Symposium, and the Computer Arts Society in London.
His first PhD focused on genetic algorithms for classification of human musical behaviour in MPEG7 time series. He then led BioBeats as CEO, a startup that focuses on machine learning models of mental health and disorder. He is a member of the INDEX group and a Senior Lecturer in Organisational Neuroscience at the University of Exeter, and is a Fellow of the Alan Turing Institute.
Publications
Journal articles
Conferences
Franceschi M, Morelli D, Plans D, Brown A, Collomosse J, Coutts L, Ricci L
(2019). ComeHere: Exploiting ethereum for secure sharing of health-care data.
Abstract
.
Full text
.
DOI
.
Bacciu D, Colombo M, Morelli D, Plans D
(2017). ELM preference learning for physiological data.
Abstract
.
Font F, Brookes T, Fazekas G, Guerber M, La Burthe A, Plans D, Plumbley MD, Shaashua M, Wang W, Serra X, et al
(2016). Audio commons: Bringing Creative commons audio content to the creative industries.
Abstract
.
just updated