The Turing AI Fellowships initiative was created in collaboration with The Alan Turing Institute. It is part of a skills and talent package set out by the UK Government aimed at attracting and maintaining the best talent in artificial intelligence.
The objectives of the Turing AI Fellowship initiative are to:
Support a diverse AI research community by developing capability and capacity thereby creating a sustainable AI research and innovation ecosystem.
Enable new models of collaboration across sectors in AI, encouraging engagement between industry and academia through flexible career paths that encourage inter-sector mobility.
Integrate the consideration of AI adoption into AI research activities, and embed Responsible Research and Innovation (RRI) in AI alongside consideration of how AI can be designed to be safe, ethical and usable.
Three of our researchers are Turing Fellows, including: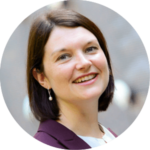 Zena Wood
Zena's research lies within Geographic Information Science, focusing on collective behaviour and movement pattern analysis with applications in Smart Cities, transportation and urban planning. Many of her projects involve collaborations with experts from geography, psychology and business.